Tasmania Luxury Accommodation
- the complete guide to all Luxury
Accommodation Tasmania has to offer.
Compare, Select, and Book Instantly Luxury Accommodation in Tasmania.

accommodation that treats your senses.

in the pure Luxury of Tasmania's premier lodgings.

yourself at Tasmania's finest Luxury Accommodation.
Tasmania has been described as one of last unspoiled regions on earth. The spectacular East Coast, with the Freycinet National Park on the Freycinet Peninsula as its centrepiece, is simply inspiring with beautiful Tasmanian coastal scenery. East Coast Tasmania Luxury Accommodation is dotted along the coastline and within easy reach of two of Tasmania's finest Beaches - Binalong Bay and the famous Wineglass Bay.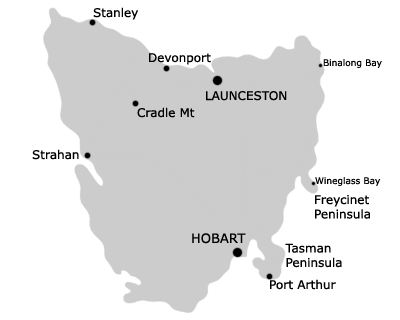 Southern Tasmania, and in particular Tasmania's capital city of Hobart, is one of the more populated areas of the region. The south's Tasman Peninsula is home to the Port Arthur Historic site, though this awesome peninsula also has an incredible coastline that is well worthy of discovering. Luxury Accommodation in Hobart and Tasmania's South has an excellent diversity from waterfront hotels to boutique guesthouses.


Tasmania's rugged West Coast is quite simply - pristine wilderness - with most of the region being dedicated National Parks. Strahan is a quaint little fishing village where one can begin to explore this vast, untamed region. The easily accessible Cradle Mountain is probably Australia's most photographed mountain peak. Luxury Accommodation in Cradle Mountain - Strahan, and the West Coast, is quite limited an very popular in the summer months.


The rolling fertile hills of Northern Tasmania lead south into the often snow capped central highlands. This wide expanse of coastline, from Stanley in the west to Launceston in the east, contains some of Tasmania's most picturesque sights - the towering Lighthouse on Tablecape near Wynyard - Stanley's majestic "Nut" - and the beautiful Tamar Valley, the premier wine growing area running north from Launceston to the coast. Northern Tasmania Luxury Accommodation can be found spread across this entire region ranging from Launceston Hotels to Highland Resorts.